Admiral Nelson Shirts
England expects that every man will do his duty

Shortly before noon on October 21, 1805, a series of hoists of signal flags fluttered from the masts of HMS VICTORY. It was the beginning of the Battle of Trafalgar and Vice Admiral of the White, Horation Nelson, had just ordered what was to become one of the most famous phrases ever signaled by a naval officer.

According to Nelson's signal officer, Lieutenant John Pasco... "His Lordship came to me on the poop, and after ordering certain signals to be made, about a quarter to noon, he said, 'Mr. Pasco, I wish to say to the fleet, ENGLAND CONFIDES THAT EVERY MAN WILL DO HIS DUTY' and he added 'You must be quick, for I have one more to make which is for close action.' I replied, 'If your Lordship will permit me to substitute the confides for expects the signal will soon be completed, because the word expects is in the vocabulary, and confides must be spelt,' His Lordship replied, in haste, and with seeming satisfaction, 'That will do, Pasco, make it directly."

Our Admiral Nelson 'England Expects' shirt is imprinted on the front with an image of Admiral Nelson and the British Union Jack and features a colorful depiction of the complete signal in fluttering signal flags using Rear Admiral Sir Home Popham's numeric flag code on the back. Available in the classic white 100% cotton pre-shrunk, heavyweight Gildan Ultra Cotton t-shirt in adult sizes from S to 3XL, our Admiral Nelson shirt is perfect for naval history enthusiasts of all ages. Also available in the Anvil 100% cotton pre-shrunk jersey-style (3/4-sleeve) shirt in white with navy blue collar and sleeves or the soft & comfortable Gildan UltraBlend Crewneck Sweatshirt (50/50 cotton/polyester blended fleece fabric).

A slightly different version of our Admiral Nelson shirt is available in a navy blue heavyweight Gildan Ultra Cotton t-shirt with an image of Admiral Nelson and the British Union Jack printed on the front left breast area and the complete signal depicted in fluttering signal flags on the back of the shirt.


WHITE SHIRTS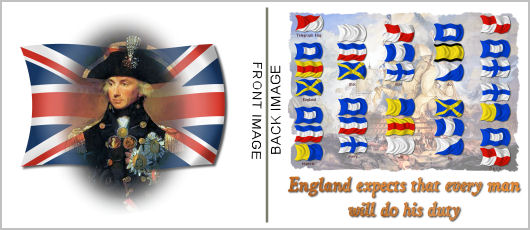 NAVY BLUE SHIRTS